Question: When is a Carbon Tax just a Tax?
Answer: When coal-fired power plants are almost completely exempt.
NB Power's Belledune generating station burns a combination of coal and petroleum coke. Trudeau just gave Belledune an exemption to produce 800 tonnes of GHGs for free.
So, Belledune will pay only $0.91 per tonne of greenhouse gas emissions (GHGs). The Trudeau "carbon tax" starts at $10 per tonne of GHGs.
Yet the Liberal government is still pretending that this tax is somehow going to reduce GHGs. It is crystal clear – this is just another Liberal tax.
Paula Biggar Misleads Islanders
Paula Biggar is PEI's Liberal Minister of Transportation, Infrastructure and Energy. So she would be privy to the coal carbon tax exemption decisions and their impact on NB Power.  She may even have influenced them.
UPDATE Nov 2 2018 – When asked to provide the five-year agreement between NB Power and Maritime Electric – Biggar claims she is not able to because it is proprietary.  See image below.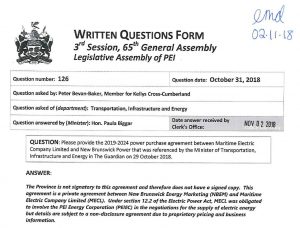 Yet Paula Biggar is now bragging how the new tax won't cause P.E.I'.s electricity rates to increase.
In an October 29th letter to the editor of The Guardian newspaper she says:
https://www.theguardian.pe.ca/opinion/editorials/letter-federal-climate-plan-wont-impact-rates-254577/
"Maritime Electric has signed a five-year agreement with N.B. Power that will ensure P.E.I.'s electricity prices are not affected by the federal government imposing a backstop on New Brunswick. […] Any change to P.E.I.'s electricity rates at that time are not related to the federal climate plan's impact on New Brunswick energy costs."
Of course P.E.I.'s rates won't increase – the new Liberal tax will have little-to-no impact on New Brunswick energy costs! Paula Biggar is misleading Islanders for political gain.
And Biggar also has the audacity to claim that:
"Our government stands with Islanders in fighting climate change while protecting their pocketbooks."
when she knows that the new tax will do NOTHING to reduce GHG's.
https://www.cbc.ca/news/canada/new-brunswick/coal-fired-power-plants-carbon-tax-1.4882669
"The proposed exemption for coal is so large it will eliminate most of the carbon taxes New Brunswick's biggest greenhouse gas emitter, NB Power, was warned it would be facing just six months ago.
It would also allow it to continue releasing most of the greenhouse gases it currently produces at its coal-fired generating station in Belledune for free.
[…]
According to federal records, the Belledune generating station, which burns a combination of coal and petroleum coke, emits 838 tonnes of greenhouse gases for every gigawatt hour of electricity it produces.
The new federal proposal would exempt 800 tonnes of that from carbon taxes.
That will allow 95.5 per cent of Belledune's greenhouse gas emissions to pass through its giant 168-metre smoke stack for free and will slash NB Power's carbon tax bill at Belledune next year to $2.5 million.
That is an effective carbon tax rate for Belledune next year — which emits up to 2.8 million tonnes of greenhouse gasses annually — of just 91 cents per tonne."