Brad Trivers was first elected in 2015 as the MLA for District 18 Rustico-Emerald. He has served as the Official Opposition Whip and Opposition Critic for Communities, Land and Environment, Finance, and Acadian and Francophone Affairs. He has also chaired the Public Accounts Committee.
In May 2019, Brad was re-elected and appointed Minister of Education and Lifelong Learning and Minister of Environment, Water and Climate Change. In February 2021 he was appointed Minister of Social Development and Housing. He is currently the chair of the Standing Committee on Natural Resources and Environmental Sustainability, and sits on the Standing Committee for Education and Economic Growth.
Before entering public life, Brad worked as an information systems analyst for over twenty-four years. Following graduation, he worked in Ottawa's high-tech sector managing an information systems team. Brad is an active community member, and has coached minor sports, and is a member of Central Queens United Church. He also enjoys playing oldtimers hockey in North Rustico. Brad sings and plays guitar at local ceilidhs, kitchen parties and benefits.
Brad graduated from the University of Waterloo co-op program. He earned an Honours degree in Science and Business, with minors in physics and computer science. He is the son of two high school teachers and grew up on a mixed farm – beef and sweet corn. He grew up loving sports, 4-H, music and academics.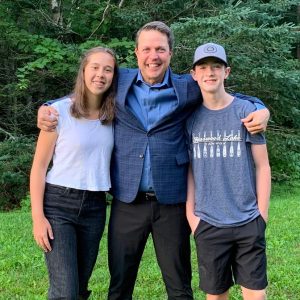 The Early Years
Trivers is not an Island name, but as my uncle says, it is "rivers" with a "T" in front – if the "T" was at the end it would be "riverst" (reversed) 🙂
I was born in Perth, Ontario near Ottawa – as was my younger sister – and shortly after lived in Vegreville, Alberta and then Fort St. John, British Columbia.  At the tender age of four my family moved to the north shore of Lake Huron on a farm in between the villages of Iron Bridge and Thessalon, where my Dad's family hails from.
My Dad started a cow-calf beef operation and grew sweet corn as a summer-time cash crop while my Mom taught high school in the nearby town of Blind River.  After a few years as a full-time farmer my Dad decided to keep farming but also teach high school up in Sault Ste. Marie – driving a 234km round-trip every day!  So I grew up the son of two hard-working parents in wonderful rural tradition.
Growing Up
I grew up loving sports, played minor hockey and also loved track and field.  This wasn't a surprise because my parents were both accomplished athletes in their day – my Dad playing on a line with Brian Murray and teammate Doug Carpenter while getting his Bachelor of Science in Agriculture at MacDonald College of McGill University.  In high school I played some midget AAA hockey with the Elliot Lake Contractors, but eventually settled into AA midget hockey in Blind River just in time to be a part of the host team for the all-Ontario championships.
I also loved academics growing up and was valedictorian of my elementary school (grades 1 through 9), and went on to compete in science fairs, lead the school in math contests, enter public speaking competitions, and win recognition for essays.  I was president of the student council in grade 11, and vice-president in grade 12.  During the summer before grade 12 I was privileged to attend several leadership conferences for music, academics and 4-H.   In particular I was chosen from my regional 4-H gathering to attend the Ontario-wide conference, from where I was chosen to be the Ontario delegate in the Canadian delegation to the U.S. National 4-H Conference.  It was then that I realized I wanted to get involved in politics at some point in life.
I've also always loved singing, acting and playing music.  I played trombone in high school stage and concert bands, and taught myself guitar.  In high school I was lucky enough to land several roles in school musicals: Oliver as The Artful Dodger, Oklahoma as Will Parker, Fiddler on the Roof as Perchik, and The Sound of Music as Captain Von Trapp.  I also garnered an outstanding performance award at the Ontario Sears Drama Festival for my role as Jamie-Paul in the play The Ecstasy of Rita-Joe.
University and Career
After high school I enrolled in the Science and Business program at the University of Waterloo, and after only four months took a year off to travel the world with the musical group Up With People.  Our cast – known as Cast F – of over 120 people from 23 different countries toured with two buses and a transport truck with our set, and put on 110 two hours shows across Europe and North America.  For a small-town boy of nineteen it was a year of much learning and growth, and I completed the year with friends from all over the world.
I returned to school and graduated with a Co-op Hon. Science and Business degree with a minor in computer science and physics.  University was both challenging and a lot of fun and I was able to continue playing intramural hockey (full contact at that!), and trombone with the Waterloo Warriors Band.  I spent most of my co-op work terms in Waterloo at Maple Software, one winter at Deloitte Consulting in Winnipeg, and a final term in Ottawa at Newbridge Networks (now Alcatel-Lucent).
When I graduated I took a full-time offer at Newbridge Networks and worked there for almost 9 years as an information systems analyst, working my way up to manager of a team responsible for product group systems used internally.  Ottawa was a fun place to live and I organized and played on company hockey and soccer teams and generally had a lot of fun.  I did some acting in a couple of productions with a local church, and also played in a couple of "pub" bands – "Potato Wine" and "The Semaphores".  Joining forces with my two first cousins – Scott Trivers and Ron Mills – The Semaphores cut a fun-loving CD with some of my original tunes and did a "Keith's Kitchen Ceilidh" tour playing over 40 shows in the Ottawa and Kingston area.
Beautiful PEI
Since moving to New Glasgow in 2004 I've had the privilege of becoming part of a great community.  No sooner had we bought our house then real estate agent Jamie Pound recruited me to be a "power forward" with the North Rustico Oldtimers hockey team who I have been having fun with ever since – both on and off the ice.   When we started attending Central Queens United Church it wasn't long until I was singing in church, teaching Sunday school, sitting on the fundraising committee, and even helping write and act in church dinner theaters – productions like "The Maiden Voyage of the S.S. Central Queens", "The Mystery of the Hot Dog Horse", and "A Night at the Gordon Lodge".  Now I help coach minor soccer and minor hockey.  It is plain to see what a vibrant community Rustico – Emerald is and I am proud to be a part of it.
On the business side of things I was fortunate to find work right away doing independent consulting – placed in at the Canada Revenue Agency as a Senior Systems Analyst by Deltaware Systems.  In 2005 I incorporated my company – SunriseWeb.ca. SunriseWeb.ca specialized in web development (e.g. building websites) with the WordPress CMS (Content Management System).
Politics
I've always had the intention of getting into politics, and I've always leaned towards the Progressive Conservative side of the spectrum.  When the PC Association of District 18 Rustico – Emerald called for nominations for the 2011 provincial election I decided it was the right time to take the plunge and lost by 157 votes. In the 2015 PEI general election I ran again, and was elected as the District 18 Member of the Legislative Assembly (MLA)!