Melanie Gallant received the following response to an email she sent to Minister of Transportation, Infrastructure, Energy and the Status of Women.  In Melanie's words:
J'ai envoyé des lettres d'appui pour le projet de renouvellement de l'École Évangéline aux ministres de la province hier soir et voici une réponse que j'ai reçu ce matin 😡 ….. une bonne démonstration d'ignorance!!! Google translate existe pourtant ……. 🤨 Pas de sens!!!!!

I sent letters of support for the project school renewal project to provincial ministers last night and here is an answer I received this morning 😡….. a good demonstration of ignorance!!! Google translate exists Yet……. 🤨 no meaning!!!!!

-Melanie Gallant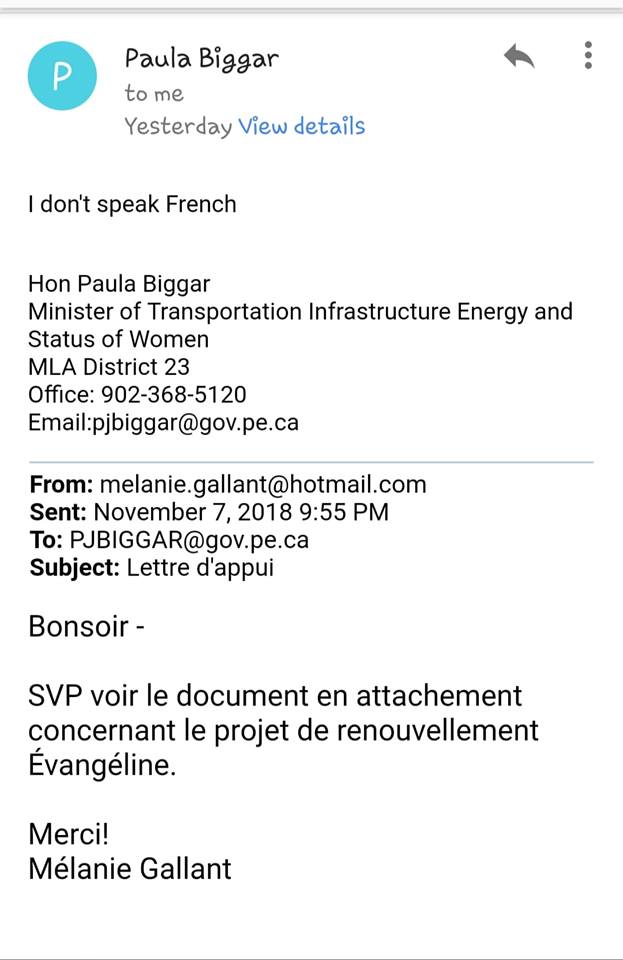 As the Opposition Critic for Acadian and Francophone Affairs I find this very disappointing.
The French Language Services Act, originally passed by a former PC government, has clear rules that require official correspondence to be replied to in the original language it was received in.
The Minister may not speak French but there are many public servants who do and could have helped prepare a proper response.
The issue being discussed was about local school infrastructure needs and the community concerns being raised were dismissed out of hand with the Minister's rude and inappropriate response which is just wrong.
Government needs to make a better effort to live up to the spirit of its own law.
***
À titre de porte-parole de l'opposition officielle en matière d'affaires acadiennes et francophones, je trouve cette situation très décevante.
La Loi sur les services en français, une loi promulguée à l'origine par un ancien gouvernement conservateur, est très claire : la correspondance reçue en français doit être répondue par écrit, en français.
La ministre ne parle peut-être pas français mais de nombreux employés de la fonction publique parlent français. Il y a de l'appui disponible pour préparer une réponse appropriée.
Le sujet de la communication – les besoins d'infrastructure scolaire locale et les préoccupations soulevées par la communauté – a été immédiatement rejeté par cette réponse impolie et inappropriée de la ministre.
Cela n'est pas correct.