It's been a busy week for Team Trivers 2015!
First off, many thanks to Scott Hammill who has stepped up to the task of Campaign Chair and is getting the over 30 team members that have volunteered so far organized and on track.  If you want to become a volunteer then you can contact me directly or submit the form on the new Volunteer web page (click here).
At the provincial level the first PC Leadership advanced poll was held – and I know that many PC's from District 18 went and placed their votes using the new "preferential ballot" format.
In District 18 I've been meeting with lots of people, especially enjoying time at Harmony House pub night, Brookvale Nordic Ski Park for the 2015 Winter Woodlot Tour, the Central Queens United Church valentines dinner and the Hunter River Lions Club valentines dance.  I got my new business cards to tide me over before fridge magnets arrive next week – looking forward to distributing them across District 18!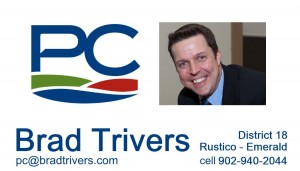 Here are a couple of pictures from the Central Queens United Church Valentine's Day dinner which I really enjoyed MC'ing and playing at with Betty Pound and Charles Reid.  As you can see Alyssa and Kaylee Howes did a great job step-dancing too.  The congregation at CQUC really knows how to put together an event!
Looks like we'll have a stay-at-home Islander Day with the big storm that is raging.  Keep warm and maybe bundle up and go say hello to your neighbours if you can walk over.
As always, please do not hesitate to contact me by email at pc@bradtrivers.com or by phone 902-940-2044.
Cheers,
Brad