VIEW BRAD'S BLOG | CONTACT BRAD | SUBSCRIBE TO BRAD'S MAILING LIST
When & Where Do I Vote?
VOTING DATES & LOCATIONS 
Saturday, October 7

 – 

10am

 to 

3pm @ 5 Locations: 

Murchison Centre, Fortune Hall, Cavendish Farms Wellness Centre in Montague, CUP in Summerside and at the Bloomfield Legion

Saturday, October 14

 – 

10am

 to 

3pm @ 5 Locations: 

Murchison Centre, Fortune Hall, Cavendish Farms Wellness Centre in Montague, CUP in Summerside and at the Bloomfield Legion

Tuesday, October 17

 – 2

pm

 to 6pm * Murchison Centre in Charlottetown
Friday, October 20 – 5pm to 7pm @ Rodd Brudenell Resort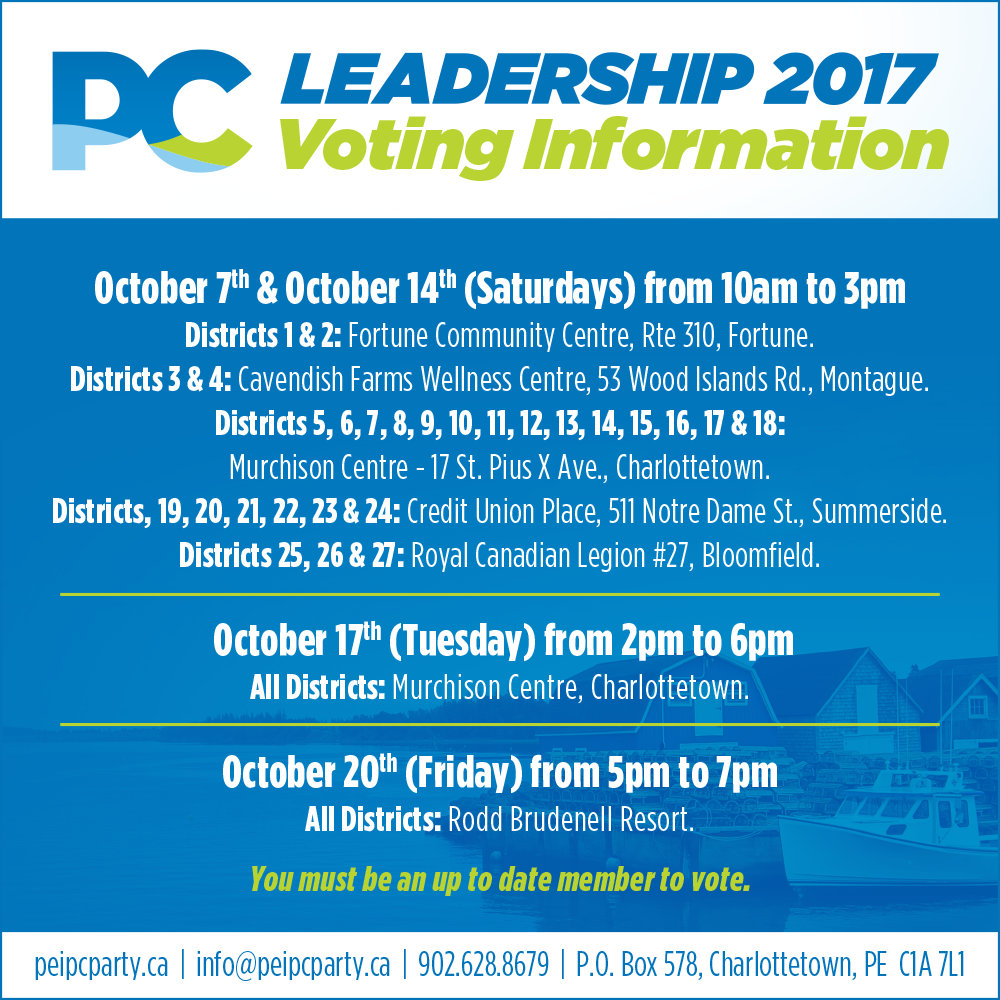 Recent Blog Posts
SUBSCRIBE TO BRAD'S MAILING LIST
To Run Our Campaign Requires Money
Infrastructure, Education and Health Care
That's why we pay taxes, and where government's focus should be.
Integrity, Accountability and Common Sense
Those are the qualities that should be a given in our leadership.
Socially Progressive – Fiscally Responsible
Our PC mission and core values show that we are the party for innovation, diversity, social justice, and the environment.
LET'S GET BACK TO BASICS
---
Mission – Our mission as Progressive Conservatives is to form a fiscally responsible, socially progressive government that promotes individual achievement and personal responsibility, is accountable to its citizens, listens to its people, and embraces innovation, while preserving the best of our unique heritage and diverse cultures and learning from the past.
Who Is Brad Trivers?
About Brad Trivers
Brad Trivers is the PEI Progressive Conservative MLA for District 18 Rustico – Emerald.  He lives in New Glasgow, PEI with is two children Annika and Alexander  – born in 2006 and 2009 – and wife Karen Turner Trivers.  Brad and Karen own and operate their own business – SunriseWeb.ca – where he is an information systems consultant, creates websites and does freelance WordPress development.  Brad enjoys "playing" oldtimers hockey in North Rustico, is an active member of Central Queens United Church in Hunter River, coaches minor hockey and soccer, and is often seen performing at local ceilidhs and kitchen parties.
Trivers is not an Island name, but as his uncle says, it is "rivers" with a "T" in front – if the "T" was at the end it would be "riverst" (reversed).
Why does Brad want to be PEI PC Party leader?
Why I want to be PC Leader
It's my belief that Tories – and Islanders in general – are tired of political games, empty promises, blatant patronage and politicians who are out for personal gain.  Government must work for the people – not the other way around.
We need to get back to basics – integrity, accountability, common sense – and our core Progressive Conservative values.  Our PC values are outlined clearly in the constitution, but somehow the Island Tory brand has been disassociated with these guiding principles.  I will bring our core values to the forefront and make them the lens through which we make decisions.
Democracy – fostering institutions and processes that enhance democratic values.
Accountability– expecting governments at all levels to answer to the people for the decisions they have made.
Responsibility – defining good government as one that lives within its means and whose representatives spend public money wisely in the interests of all Islanders.
Compassion – caring for those in society who need support.
Respect – treating all PEI citizens as being equally valuable, regardless of ability, race, gender, religion, language, marital status and/or sexual orientation.
Entrepreneurship– providing a climate where all Islanders have the opportunity to succeed through hard work and initiative.
Self-Reliance– supporting people who are able to help themselves remain or become independent.
Stewardship – passing on a natural environment to future generations that is the same or better than the one we inherited.
Patriotism – taking pride in our cultures, our communities, our province and our country.
At the same time we need to embrace change, empower front-line civil servants, and bring innovative solutions forward to solve our problems and improve our government.  That's why we are Progressive Conservatives.
Also, we need to work as a PC team.  There is no all-knowing mythical leader who can step in and be all things to all people – every person has something of value to add.  When a leader (and/or their party) believes they are the only one with the right answers failure is imminent.
I didn't get into politics for the money – indeed as a successful businessman I took a pay cut to become an MLA.  I chose to be an Islander because of the culture and the people – and I believe the PC core values that I cherish are those that most Islanders hold dear.  I want to see these values driving the policies and actions of the Provincial Government of PEI.
I look at the big picture, and the long-term outcomes.  For example when I ran in 2011 I knew it was likely I wouldn't win, and I already had a plan in place to work hard so I could get elected in 2015.  I believe in delayed gratification, and short-term pain for long-term gain.  As a community volunteer, businessman and father I have built a life where I have the opportunity and wherewithal to be an elected public servant.  I've always known this was my calling.  In fact in my high school yearbook my ambition is listed as "Prime Minister of Canada" (as an 18-year-old I wasn't afraid to aim high!).
I grew up on a beef farm (Limousin pure-breds) where we also grew sweet corn as a cash crop in the summer – and my parents were both high school teachers.  Through my involvement in 4-H I was chosen to be the Ontario provincial representative in the Canadian delegation to the US National 4-H Conference.  I am a team player with experience honed playing Midget AAA hockey, travelling the world in the 120-person international musical group Up With People, managing a Information Technology team during the Ottawa high-tech boom, and as a church elder at Central Queens United Church.
As an entrepreneur and web developer I believe strongly in innovation, and intimately understand the technological forces that are re-shaping our world.  As an accomplished actor, musician and entertainer I feel very comfortable being in the public eye, and know how to get my message across.
In short, I believe I have the experience and the qualifications to lead the PEI PC Party as we re-establish our brand based on PC core values – with progressive policies we need and Islanders want.
Where do I stand on key policy issues?
Health & Wellness
Healthy eating and lifestyle taught in schools
Incentives for healthy lifestyles
Focus on illness prevention
https://bradtrivers.com/2017/06/school-food-programs/
Take action to improve supports for Mental Health & Addictions

Create Action Team – drive change and report back progress to Islanders on a quarterly basis

Cross-department – Health & Wellness, Education, Justice, Family & Human Services
Health PEI
People with lived experience
Community stakeholders – Canadian Mental Health Association, Advisory Council on Status of Women, MCPEI, Native Council PEI, etc.)
Minister of Health & Wellness
Opposition MLA

Decrease spending on administration – redeploy resources to front lines
Put financial supports in place for people to act as caregivers for their loved ones (e.g. seniors)
Transportation and Infrastructure
Preference given to maintaining existing roads – not building new ones (e.g. Cornwall Bypass, Plan B highway)

~$30 million allocated for Cornwall Bypass could have resurfaced almost 1000 km or existing roads

Public Infrastructure Summit needed to determine priorities
Education
Elected school boards
End 5-year school review process

Ongoing management of schools, zones, class size and composition
Implement Progress Monitoring to replace common assessments
End "Provincial Common Assessment" putting freed up teachers back in the classroom
Actively pursue Hub School Model for schools
Energy
Replace imported energy with clean, renewable, locally-produced energy (wind, solar, hydro)
Implement "Smart Grid" technology
Build offshore wind turbines
Implement means-based incentives for

PV solar panel installation
Heat pump installation (air-to-air, geothermal)
Electric and hybrid vehicles

Fund research and pilot projects for both local and utility-grade power storage
Agriculture and Fisheries
Prioritize purchasing of locally produced food by government institutions (schools, hospitals, etc.)
Ensure real estate speculation does not result in non-resident agricultural land ownership with absentee landlords and inflated land prices
Close loopholes in, and enforce legislation restricting corporate land ownership limits
Economic Development
Ensure all Islanders have access to reliable high speed internet
Introduce tax credits for self-employment income from exports (unincorporated)
Allocate funds for proper road maintenance (see Transportation)
Communities, Land & Environment
Increase funding to and empower Watershed Groups

a proven 10 to 1 payback on investment
work closely with farmers

Use variable buffer zones around Island waterways
Ban high volume slick-water hydraulic fracturing on PEI
Keep the moratorium on high capacity wells for agriculture, and investigate alternative methods of irrigation
Make the federally-imposed carbon pricing revenue neutral  by removing HST on electricity and all home heating sources and/or increasing the basic personal tax exemption amount
Close loopholes in, and enforce legislation restricting non-resident and corporate land ownership limits
Family and Human Services
Conduct a Universal Basic Income pilot project on PEI
Implement a Child Advocate on PEI
More subsidized housing in rural communities
No child goes hungry
Democratic Renewal (Electoral Reform)
Brad believes that the PEI PC Party must hold a vote within it's membership to take a stand on electoral reform. This will allow the PC Party to lobby for our choice on the promised electoral reform referendum during the next general election.
May 13, 2016 – Speaking to the Democratic Renewal Committee Report in the Legislature
https://bradtrivers.com/2016/08/first-past-the-post-plus-leaders-dangerous/
To Vote For Brad You Need to Be a PC Member!
Renew or Purchase a PEI PC Membership
We Need Volunteers To Help Brad
Volunteer For Team Trivers
VIEW BRAD'S BLOG | CONTACT BRAD | SUBSCRIBE TO BRAD'S MAILING LIST