Thanks to the almost 30 people who came out last night to discuss electoral reform options, and health care in a "town hall" for District 18 Rustico-Emerald.  Very good crispy conversations over mouthfuls of apple crisp.
As we discussed the 5 different electoral reform options on the plebiscite ballot, it became clear that the "devil is in the details" as they say – and there are still some outstanding questions. Also, describing some of the options – like DMP – is tricky without having concrete examples. To continue to learn more about the options visit http://www.yourchoicepei.ca .
The discussion about Health issues was also very good. It became clear that it is a large, diverse, and complex area with many issues – and most have been around for a long time – like lack of nursing care beds, wait times, large expense for off-Island treatment, large bureaucracy, need for more oncologists, potential for telehealth, using nurse/practitioners more, salaried vs fee-for-service Doctors, etc. We must continue to work towards solutions. Thanks to Dr. Andy Weeks and Opposition Health Critic James Aylward for attending and lending their experience and expertise to the discussion.
Special thanks to Tim Edwards at the New Glasgow Christian Church for all his help with tea, coffee, serving apple crisp, set up and clean up.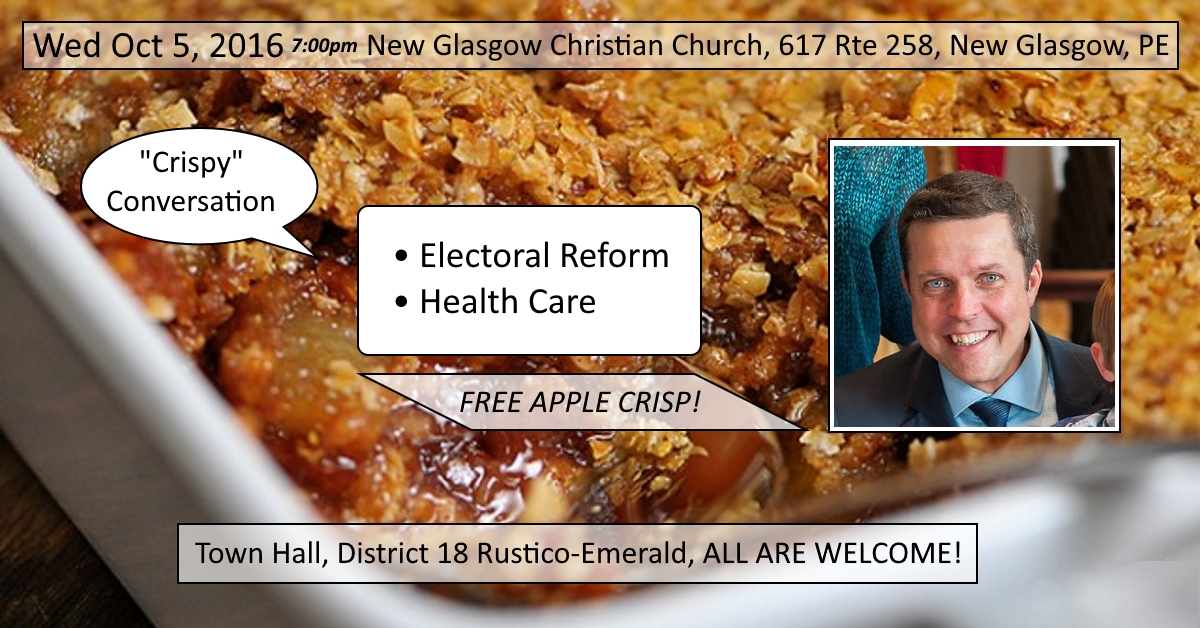 Here is a "raw" version of my notes on the health care discussion:
understaffed in Dr's office – so can't reach on phone

government pays staff, not Doctors, (because salaried vs. fee-for-service?)

set hours for salaried Dr's? 17 hours of patient time per week? 37.5 hour work week
salaried Dr's work clinics and ER in evening, but are on salary during the day
fee-for-service gives better incentive to work, and health system likely works better because of this; on the whole fee-for-service is better
cannot send email to the office, or even to make an appointment, often there is no answering service to leave a message
Dr shortage – need to get more and make better use of Nurse Practitioners
7 regions in province with satellites; not enough done with satellites – health care too centralized – e.g. Gulf Shore nutrition program was not advertised (only one 8×11 sheet of paper); too many silos in centralized Health PEI; e.g. flu vaccine coming out next Tuesday but not adversited enough
expectations of Islanders are high, and it is expected that there be more localized service; clinics should be able to provide more services without Dr's (e.g. nurses, NP's)
when emergency and you need it then it's there
major issues with cardiology treatment on PEI, and expensive modalities for cancer care too; many dollars going out to other provinces (over $40 million last year)
strategies to address discrepancy in on-Island vs off-Island care
telemedicine – phone a number on weekend and somebody pick up phone with access to medical records to provide advice

e.g. telehealth in Northern Ontario is an example that could be useful here
if not expecting telemedicine then can feel like a rip-off – charged $145 to get ear checked, take pictures and send to Dr – 30 minutes later Skyped and gave treatment advice;

don't have financial resources to support our health system as it exists; 100% of budget in a short time
PEI spends more than any other province on bureaucracy
Islanders not good at looking after ourselves; preventative health care
de-centralize smoking cessation courses to allow to be in rural areas
problem with seniors in QEH instead of nursing home – extra cost, improper care for condition, not enough beds, gov't delaying build of new homes,
replaced old home with same number of beds
if people have the means, why does province pay full shot for nursing care?

50%(?) of pension income goes, but savings not used

cancer treatment protocol on Island; oncology process is longer than compared to other provinces; Islanders not receiving proper care and being lost in the system; two oncologists are not enough
full time epidemiologist needed on PEI to determine why cancer rates are so high
preventative health care is key; eliminiate smoking, eat healthy (less processed food)
everyone should have garden and grow own vegetables
people get healthier going from East to West
tax on unhealthy foods
genetic component to unhealthiness / obesity
need to have more people use CSA's, food exchange; many young people are eating healthier; community gardens; teach about canning, pickling, fermenting
society has changed a lot; people don't work as long hours any more – a lot of health problems related to this? garden not work; people just don't want to put in the work it takes to be healthy; people waste a lot of food
access to system is huge issue
because such a complex system with so many layers and players – Federal, Provincial, Regional, etc.
very few people that know the whole system; a lot of silos; very hard to break down – not sure what levers are to change them
incentives to use money in different ways; we are not getting good value for money – sometimes getting good care in system – but as an overall system we
are not getting good value for money – but how to make changes is a very tough question; no one in country can actually tell how much each service costs
(e.g. cost of bed in QEH vs nursing home); management of system is stymied on how to move forward
need to decide responsibility – clearly allocated between Federal and Provincial;