I have many criticisms of the "Electoral Reform" plebiscite being held this fall by Elections PEI, (see video below).
UPDATE – VIDEOS SPLIT UP – Video Split – Special Committee on Democratic Renewal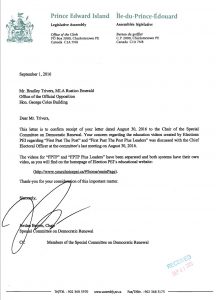 But, what is really worrying me right now is the "First-Past-The-Post (FPTP) plus Leaders" option – which has the potential to have a very serious negative impact on our democracy – is being lumped in with the information describing the existing FPTP system – and not being differentiated enough from our current FPTP system.  For example the current FPTP and "FPTP + Leaders" are both described in the same Elections PEI video.  When it comes to the impact on democracy, the two options are radically different.

My prime concern is with any option that allows a person to sit as a Member of the Legislative Assembly without any direct accountability to constituents – where a political party's internal processes are the main method by which the person to sit as the MLA is chosen.  The FPTP + Leaders option means that the leaders of party's that get more than 10% of the overall popular vote become MLA's – without having to put their name on a ballot and without accountability to any specific group of constituents.
We need to look no further then the winter of 2015 when we saw a scenario unfold that mirrors what a FPTP + Leaders policy could result in.  In February 2015 Islanders saw how our existing current democratic system on PEI allowed an individual to get sworn in as Premier without having a single vote cast in their name.
That's right – Wade MacLauchlan assumed office as Premier of Prince Edward Island on February 23, 2015 without getting a single vote in any capacity – he was unopposed in the Liberal party leadership, and had never run in any type of provincial election.  Yet, he became Premier, announced a cabinet, and became the head of our government, making decisions that impact every Islander's life, and well-being.  Although there were many elected MLA's that were rumoured to be considering a Liberal leadership run, they all stepped aside to allow MacLauchlan to get acclaimed as leader.  In the end this meant it was effectively the inner circle within the Liberal party that directly chose the Premier of PEI.
Contrast this with the competition for leadership within the Progressive Conservative party, that saw three candidates campaign across PEI for months prior to a leadership convention where every member of the party were entitled to cast a vote for their choice as leader – and several thousand did.    However – when Rob Lantz became the leader of the PC Party, there was no visit to the Lieutenant Governors, no government salary, and the PC Leader was not sworn in as the Leader of the Official Opposition!
There is definitely a flaw in our Democratic process.  Both new leaders should have been treated the same – and I believe that neither one should have been sworn in to positions that are reserved for elected Member of the Legislative Assembly!  All we have to do is look at the results of the 2015 general election to see that neither of these leaders had majority support within their constituencies – Wade MacLauchlan 47.7% (much less than the 100% acclamation of the Liberal leadership convention) and Rob Lantz 38.2% (infamously losing the seat by only 22 votes).
The FPTP + Leaders option is a system that will allow "leader" MLA's (including the Premier) to be chosen and changed at the whim of their party.  How the leader of a political party is determined rests solely on the internal rules and policies of individual parties – and these are not governed in any way by official democratic processes enshrined in legislation!  FPTP + leaders is potentially a very dangerous system that is rife for abuse by those that would seize power with the support of a relative few.  As I believe happened with the coronation of Wade MacLauchlan for the Liberal leadership, it is all too easy for powerful party members to clear the way for a leadership candidate they desire – whether the reasons are noble or nefarious.  In fact, I believe that this leadership acclamation scenario is even more likely in the case of smaller fringe parties – for example Peter Bevan-Baker was the only candidate in the Green Party "leadership election" in July 2012.
The FPTP + Leaders option is very dangerous, and it is important that it be shown as being very different from our current First-Past-The-Post system that has worked so well for Islanders for so long.  If you are interested in reasons why keeping our current FPTP system is likely the best option, then check out this article in the National Post – "It keeps out fascists! The utterly biased case for why everybody should stop hating first past the post".